2005 Hale'iwa Arts Festival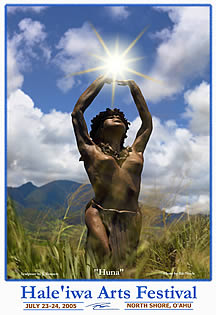 Festival Poster Artist J. Forest Ocean Bennett's
"Huna"
The Hale'iwa Arts Festival once again has the wonderful opportunity to present the works of three very talented artists for the ArtFest 2005 limited edition poster and for this year's new shirt design!
J. Forest Ocean Bennett, a Mokuleia sculptor, ceramist, jeweler and painter is a second year participant in the Hale'iwa Arts Festival. She has donated the use of her sculpture entitled "Huna" for our poster. Bring your poster to Ms. Bennett in Booth 48 and have it signed by the artist. Share her art, her history, and her thoughts by visiting her site, www.enchantedeartharts.com
"Huna" has been creatively photographed for our poster by well-known photo artist Ric Noyle. His broad range of photographic styles and art can be viewed at www.ricnoyle.com. You might find a time to chat with him at his photographer son Zak's Booth 19.
Joel Veach provides this year's shirt image. His painting, "Anahulu Bridge", brings Joel's own personal insight and a fresh artistic interpretation to this popular and familiar Hale'iwa landmark. Although he and wife Angelika may be more familiar as ceramic artists, Joel has also recently returned to his past roots as a painter. We are pleased that he has! Visit him in Booth 48 and see his newest paintings along with Joel and Angelika's ceramic art works.