2001 Hale'iwa Arts Festival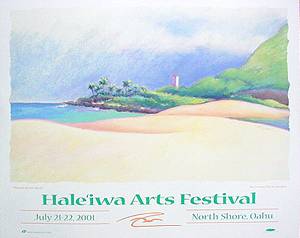 Festival Poster Artist Margo Goodwill's
"Waimea Beach Sands"
The Hale'iwa Arts Festival Art Committee has selected Margo Goodwill as poster artist for its Fourth Annual Summer Event.
Margo's wide range of fine arts interests and skills, honed over her thirty years as a professional artist, has brought her recognition in a variety of styles and mediums. Her artistic palette includes graphic arts, sculpture and mask making, painting in acrylic and oil pastel on handmade paper, mural design and interior design.
Margo Goodwill joins with previous poster artists, Rebecca Gates and Wyland, in offering her art to assist the Hale'iwa Arts Festival in promoting its events and supporting fine arts programs in area schools.