1999 Hale'iwa Arts Festival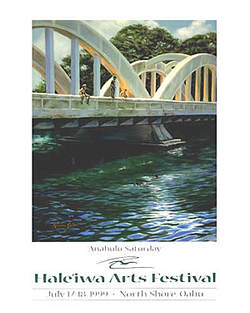 Festival Poster Artist Rebecca Gates'
"ANAHULU SATURDAY"
Classic portraiture in oils, pastel or charcoal is the primary focus of Gates' artwork and she continues to produce commissioned pieces in her Sunset Beach studio for clients throughout the U.S. She is currently teaching life drawing on the North Shore and is the 1999 poster print artist.
Gates is an example of an artist who has realized her goals with the Hale'iwa Arts Festival.
Gates states, "Most would agree that the Anahulu Stream Bridge, or Rainbow Bridge, is the signature landmark of the Hale'iwa area of Oahu's North Shore, and therefore, the logical favorite for the Arts Festival poster." She goes on to say, "For me, that one bright Saturday, as I watched the kids jumping off the bridge, swimming, being kids, I felt this is the real heart of Hale'iwa, that joy of childhood we all cherish. The reflected light on the bridge seemed to echo the 'glow' on the kids' faces, and that's what I wanted to restate in 'ANAHULU SATURDAY'."